The 4th Australia China Entrepreneurs Dialogue taken on the theme of "Australia Agri-Food Innovation Summit"; as one of the flagship projects of the Entrepreneur Asia, was held in September 2016 in Melbourne;
2016 Australia China Entrepreneurs Dialogue – Agri-Food Innovation Summit
We are the first China-linked organisation that has received support from the Federal government and approval to use its logo Supporting organisations include Austrade, CSIRO, Victorian Government, AgriBio, University of Melbourne and Sydney, Agribusiness Australia.
HeAn Ma, Chair of Summit with Grame Barty, Acting CEO of Austrade
Most of China's elite agri-food business groups such as SF Commerce, New Hope , Alibaba, Luneng, Huaxi Hope Group, China Farming  General Company, Shanghai Pengxin and China Development Bank participated in it; Elders, Bega Cheese, Viplus Dairy, as well as over 260 participants from China and Australia, sharing inside experience of the industries.
Sunny Zeng, CEO of SF Commerce
顺丰COO王平在晚宴的精彩讲话
From left to right: Grame Barty; Dr Brendan Cullen, Senior Lecturer, the University of Melbourne; Gavan O'Connor, Public Affairs Officer of Viplus Dairy;  Dr Amy Logan, The Dairy Team Leader, CSIRO Agriculture and Food.
Scientists and entrepreneurs demonstrated dozens of industrialisable inventions, such as  "digital agriculture", "virtual fence", "sprayed liquid membrane", "new healthy cereals varieties that present diseases" ,etc.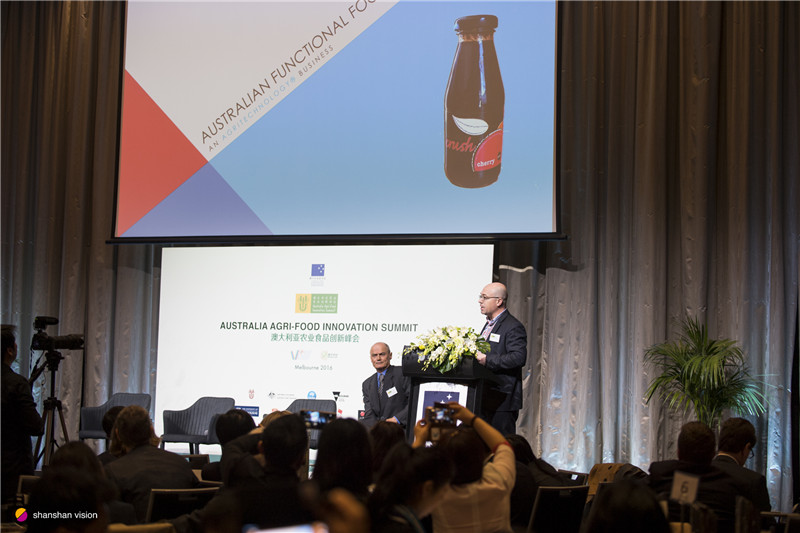 Innovation Project Showcase: Cherry Juice and Nutraceuticals
Innovation Project Showcase from CSIRO: TranspiratiON & SynFeRT
The summit lasted three days including the invited only event "Leaders Night", "the Summit Round Table", chaired by Mark Allison, CEO of Elders, Mr Sunny Zeng CEO of SF Commerce, and Harry Ma, Chair of the Dialogue and Entrepreneur Asia visited AgriBio, Food Innovation Centre of CSIRO, mainstream media that reported the Summit include Xinhua News Agency, People's Daily, and Weekly Time. In 2017 events will be continually held with topics such as Agriculture and Food Innovation, Healthcare, Energy, etc.
13th September, Leaders Night at Waterfront Dockland
From left to right: Gang Li, Chair of 3L Alliance; HeAn Ma, Chair of ACED; Yansen Zhang, Chairman of Gobelieve Group; Guiqin Gao, General Manager of Tianjin Tongrentang.
HeAn Ma with Maggie Zhou, Managing Director, Alibaba Australasia
15th September Roundtable Dialogue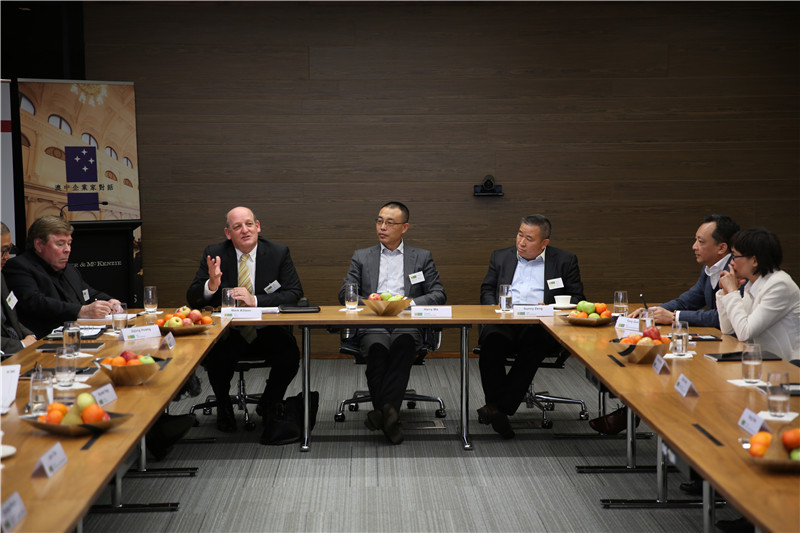 From left to right: Mr Mark Charles Allison, CEO of Elders; HeAn Ma, Chair of ACED; Sunny Zeng, CEO of Commerce.
2017 will find Australia China Entrepreneurs Dialogue even more spectacular.